The Power of an Orange for Healthy Skin
It is common knowledge that eating an orange has great nutritional value. Did you know that oranges are also a key fruit for healthy skin? The high amounts of vitamin C and other distinctive properties of an orange can impact the way your skin looks and feels, as well as the way it fights off environmental toxins. Health expert, Jasmine Talei, offers valuable insight into how oranges can protect your skin and why you should consider adding more of this citrus fruit to your daily diet.
Oranges can offer the following benefits to your skin:
Helps Inflammatory Skin Conditions
Oranges serve as powerful anti-oxidants. This means that they can protect against free radical damage, which often exacerbates inflammatory skin conditions.
Preserves a Youthful Complexion
Vitamin C helps to support the production of collagen and soft tissues, which are key components of youthful skin.
Aids Digestion for Clearer Skin
Your skin is the largest organ in your body and is undoubtedly affected by your systemic health. Bitter orange can be used internally to stimulate digestion, which can systemically result in a clearer complexion.
Targets Fungal Infections
All parts of an orange can be used to promote better skin health, including the rind! For example, the rind can be used as an infusion to target fungal infections appearing on the skin.
Helps Prevent Acne Breakouts
Topical orange, often found as an essential oil in high-quality skin products, contains antiseptic qualities. It is speculated that these antiseptic properties kill the Propionibacterium acnes, which is the type of bacteria present on acne-prone skin.
Promotes Better Energy and Mood
Let's not forget the vitalizing scent of this fruit, which is known for fostering improved overall energy and mood. Go ahead and breathe in your oranges as you eat them, and prepare to feel better in your skin!
For more information about how food can be used as medicine for your skin, please schedule your consultation at the AuraSpa Healing Center located in Beverly Hills.
Posted on behalf of Jasmine Talei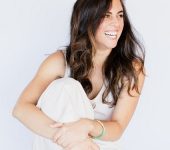 Whether it's battling a chronic illness or seeking increased vitality, Jasmine loves helping others reach their optimal health. Jasmine has a variety of tools at her disposal to achieve wellness by addressing the root cause of symptoms, in the least-invasive way. By providing individuals with the proper support, Jasmine wishes to empower each person to take charge of and advocate for their own health.