What You Should Know About the Ashwagandha Herb
While modern medicine has made incredible strides, sometimes the answer to our health concerns can be found in nature. Ancient healers have been tapping into nature's powerful remedies for centuries by using specific herbs to promote health. There is one type of herb, called an adaptogen, that is making a comeback today due to its ability to help the body resist stressors – a very familiar struggle for our modern society. Ashwagandha, also known as Withania somnifera, is a popular herb due to these proposed adaptogenic effects.
Benefits of Adaptogenic Herbs
Adaptogenic herbs are a category of herbs that are specifically known for helping our adrenals and body respond to stress. Adaptogens can help modulate the immune system and provide anti-inflammatory support within the body. These herbs deliver various minerals and nutrients that tend to be depleted in our body during times of stress. Ashwagandha is sometimes used to support our white and red blood cells due to its levels of iron.
Why Ashwagandha Is a Good Choice
Ashwagandha is considered one of the best adaptogenic herbs. It provides all the benefits of an adaptogen, but in a preferable way. For example, unlike many adaptogenic herbs that can have a stimulating effect, ashwagandha tends to be more calming and can promote relaxation.
What can ashwagandha do for you? Here's a list of why you may want to consider adding ashwagandha to your natural medicine cabinet:
Helps the body respond to stress
Fights inflammation
Supports white and red blood cells
Promotes relaxation
Boosts memory
Enhances libido
Supports thyroid function
How to Safely Take Ashwagandha
The root of the ashwagandha herb is typically consumed internally in capsule, tea or tincture form. However, this herb can also be applied topically to wounds to help speed up the healing process. Therapeutic doses of this herb range from 6-12 mL, depending on its intended use. In general, ashwagandha is a safe herb to use but is not recommended during pregnancy and lactation. It may also interact with certain depression and anxiety medications, as well as other medications that work on the central nervous system. One teaspoon of this herb per one cup of water can be boiled and mixed with ginger and honey for added health benefits and taste. Many choose to take ashwagandha in combination with other adaptogenic herbs in tincture form to help boost mood and promote focus.
To learn more about using natural herbs as medicine, please contact The AuraSpa Healing Center in Beverly Hills. We are a leading medical spa and plastic surgery center that values the importance of helping patients achieve optimal wellness through natural remedies and plant-based nutrition.
Posted on behalf of Jasmine Talei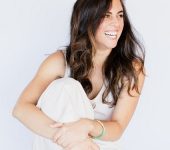 Whether it's battling a chronic illness or seeking increased vitality, Jasmine loves helping others reach their optimal health. Jasmine has a variety of tools at her disposal to achieve wellness by addressing the root cause of symptoms, in the least-invasive way. By providing individuals with the proper support, Jasmine wishes to empower each person to take charge of and advocate for their own health.